1X58w T8 IP65 fluorescent fixtures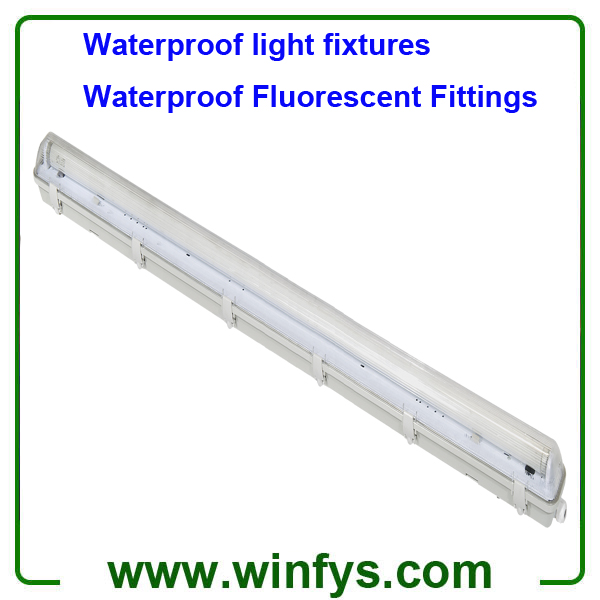 T8 IP65 waterproof fixtures
Dimmension:1578*86*90mm
Model:JLF-158
Max.Watt:1*58W
IP Rating:IP65
Carton Box Size:159*20*23cm
Pcs Per Carton:6
Lamp:T8 Fluorescent Tube
Materials available:PS/ABS PC/ABS PC/PC
Built in magnetic ballast or electronic ballast
T8 IP65 fluorescent fixtures 1x58w GS,CE,Rohs etc.
Description:
* IP65 T8 Waterproof fluorescent fixtures
* Model: JLF-158
* IP Rating: IP65
* Certificate: GS,CE,Rohs etc.
* Lamp dimension: 1578*86*90mm
* Housing: Grey Housing; Material PC (ABS is also available)
* Diffuser: Transparent Diffuser; Material PC (PS and PMMA is also available)
* Gasket: Material EPDM (Silicon gel is also available)
* Reflector: White painted metal plate
* Clips: Material PC (Stainless steel clip is also available)
* Lampholder: Material PC
* Wire: White VDE 1×0.5mm²
* Ballast: Electronic ballast and Magnetic ballast are both available
* Tube: Fluorescent tube and LED tube are both available
T8 IP65 fluorescent fixtures Features:
1. Lamp housing is made of imported high quality PC or ABS.
2. Prismatic diffuser design for even light, efficient usage and good dazzle resistant effect.
3.Seal gasket is in material EPDM or natural silicone gel.
4.Closing clips is in material PC or stainless steel for excellent waterproof performance.
5.Direct pulsion and rotation installation for light tubes to guarantee safety and
6. Easy and fast ceiling installation.
7. Curve corners and edges for stylish appearance.
8. Integral and smooth housing for easy cleaning.
9.waterproof, dustproof and blast proof
10.Suitable for both indoor and outdoor uses
11. fire-retardant pc lampholder
12.Applications:
Indoor & Outdoor Areas with High IP requirement
Dusty Humid and Corrosive Environment
Heavy Mining Industry Environment
Oil Industry and Offshore Industry
Petrochemical Industries
Pharmaceutical Factories
Loading Bays and Packing Areas
warehouss, refrigeraory, bathe center, parking lot, kitchen, workshop
Garages; Cellars; Under-bridge; Tunnel; Railway platform; Lobbies etc.