2ft 60cm IP65 Waterproof light fixtures 2X18W T8 Waterproof Fluorescent Fittings
Dimmension:675*157*87mm
Max.Watt:2*18W
IP Rating:IP65
Carton Box Size:70*34*30cm
Pcs Per Carton:8
Lamp:T8 Fluorescent Tube
Materials available:PS/ABS PC/ABS PC/PC
Built in magnetic ballast with starter electronic ballast
Description:
1X18W Waterproof Lighting Fixture
IP Rate: IP65
Model for selection:
T8---1x18w 2x18w 1x36 2x36w 1x58w 2x58w
T5--1*14w,1*28w,2*14w,2*28w.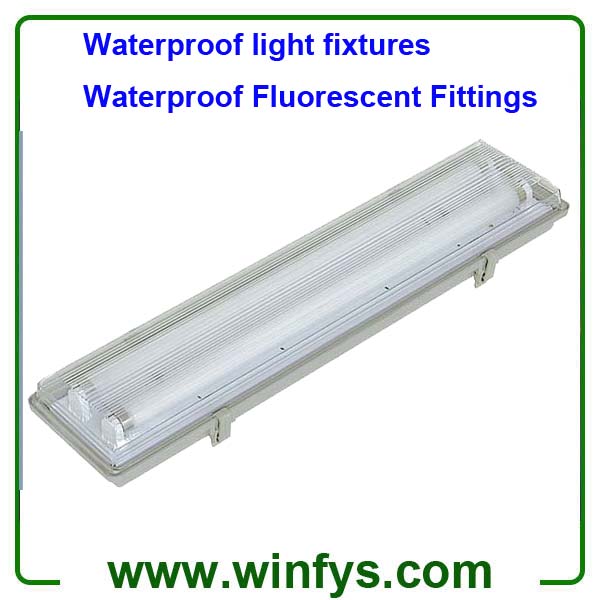 Function: waterproof,dustyproof,explodedproof
waterproof light
waterproof lamp
dust proof light fixture
waterproof lighting fixture
PC+ABC, B2 ballast CE, RoHS, IP65
IP65 T8 waterproof lighting fixture
Characteristic
Many types, material, light color of fluorescent light meet different requests.
-PC wire clips to ensure electrical safety.
-Easy and quick to installation under ceiling or on surface.
-Plastic gear tray holder connected to the housing for easy maintenance.
-Fluorescent light suitable for hospitals, canteens, army barracks, all kinds of material warehouse and production plant, Assembly workshop, a swimming pool, indoor space and square, tunnels, subway, underground car park under the bridge, the Bank, dock, outdoor, moisture, dirt, dust, and locations of the region.