Rechargeable Led Flares Rechargeable
Rechargeable Led Flares Rechargeable- Single Kit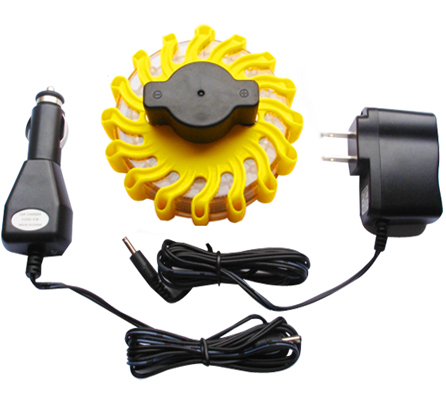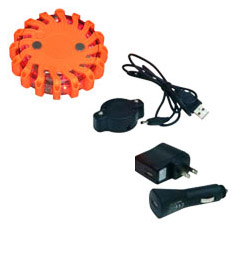 Rechargeable Led Flares Rechargeable- 6 pack Kit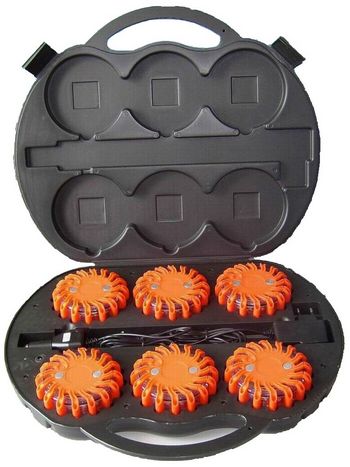 Rechargeable Led Flares Rechargeable are a safe, eco-friendly, highly visible, rugged, waterproof and cost effective alternative to conventional incendiary road safety flares.
The Rechargeable Led Flares Rechargeable is made of crushproof polycarbonate plastic with an impact resistant rubber housing. It features 9 different flash patterns that are visible up to 1/2 mile. The housing is waterproof to a depth of 33 feet and will float. It also includes a strong magnet to attach it to any magnetic metal surface.
What is Rechargeable Led Flares Rechargeable?
It is a flameless, non-toxic, battery-powered flare in a plastic crushproof enclosure that is illuminated by multiple ultra-bright LED lights instead of a flame.
Extremely durable, rechargeable 16 LED flare with 9 flashing patterns and 1/2 mile visibility. Corrosion proof, waterproof and built in magnetic mount.
When you need to alert others to a road hazard or are in need of light even during a heavy rain, the LED Road Flare is a beacon that gets noticed. Because it is durable, functional in any weather condition, compliant with traffic and safety regulations, magnetic, and submersible to 50 feet, this red flashing light (also available in yellow/amber) has a million and one uses.
The Rechargeable Led Flares Rechargeable has 9 different flashing patterns, with the 16 bright LEDs capable of being seen up to 1/2 mile. Choose from rotate, single blink, alternating blinks, quad flash, high steady light, low steady light, 2 LED flashlight, 4 LED flashlight, and S.O.S. Rescue Morse Code. Now that's a safety flare that means business.
This Rechargeable Led Flares Rechargeable offers so many great benefits. Compared to other road flares, the LED RoadFlare excels in long-lasting durability. We're talking a crush-proof and corrosion-proof polycarbonate plastic exterior and impact resistant rubber housing. What's more, this LED red safety light offers low maintenance with an internal lithium battery that's rechargeable so there are no costly batteries or replacement concerns.
Rechargeable Led Flares Rechargeable Flash Pattern
| | |
| --- | --- |
| 9 Flash Patterns | Operating Time |
| Rotate | 7 hours |
| Quad Flash | 7 hours |
| Single Blink | 50 hours |
| Alternating Blinks | 7 hours |
| S.O.S. (Morse Code) | 12 hours |
| Steady on - high | 4 hours |
| Steady on - low | 30 hours |
| 2-LED Flashlight | 7 hours |
| 4-LED Flashlight | 5 hours |
Here are some typical situations where the Rechargeable Led Flares Rechargeable can be used:

On The Road

As a road flare to slow down traffic or signal the need for traffic safety. An LED light makes a better road hazard marker than the flammable flares which are being banned by many states.

As a road construction flare to warn of road work, moving vehicles or other road hazards ahead. The amber safety light (red is also an order choice) is sure to get noticed by drivers.

As a detour beacon to signal a change in traffic conditions. It's a detour flare that will keep traffic moving.

As a movable detour LED light or road hazard flare. The strong magnet attaches to construction or highway trucks, cars, signs, or other magnetic metal surface. The blinking caution light will alert drivers to road work, accidents, or other road hazards.

In any situation calling for a road hazard LED light. It's strong and shock resistant and continues to operate even if cars or trucks drive over it.


On The Water


These Rechargeable Led Flares Rechargeable float, making them suitable for a myriad of marine uses, including boater emergency safety. Place and anchor on top of the water to designate a work zone or prohibited area.

The underwater scuba flare can be used by divers to mark an exploration or worksite site, or as an emergency flare to signal for help.

As an underwater flashlight. The Rechargeable Led Flares Rechargeable has nine different signal types, two of which serve as a LED flashlight.

Boaters equip their personal watercraft with the Rechargeable Led Flares Rechargeable to use as an emergency LED light to signal for help.


On The Job


For emergency responders, this emergency road light is sure to slow or stop traffic. The emergency road flare is indispensable to police, firefighters, rescue personnel and others serving as emergency responders.

In the LED flashlight mode, police and firefighters can see better in dark or smoky areas.

As a police road flare when conducting traffic stops. The police LED light gets noticed and ensures traffic safety when in use.

As a military road flare on or off the base. The military LED light can be used for safety, traffic control, or cautionary measures.

As a flashing road light for making repairs on the side of a road, sidewalk, or other public space.

The flashing red light also is ideal for any construction site, utility work area, or other indoor or outdoor worksite where a blinking traffic light would be beneficial.


For Personal Safety


Whether driving a car, truck, boat or other vehicle, the LED Road Flare is an ideal emergency signaling device. Its versatile design allows it to lie flat on any surface or on its edge to accommodate any emergency signaling need.




This road flare also complies with traffic and safety codes. For example, it meets the U.S. Department of Transportation, the Manual on Uniform Traffic Control Devices (MUTCD) and the National Fire Protection Association (NFPA) standards for traffic safety. And because no smoke vapors, ash, flames, or other harmful byproducts are created when in use, the Rechargeable Led Flares Rechargeable also meets tough state emission regulations, including California's VOC emission guidelines.
Key Features
Rechargeable Led Flares Rechargeable Are Better Than Traditional Incendiary Flares
Highly Visible - 16 super bright LEDs that can be seen from 1/2 mile

Cost Effective - You'll save money when you use LED Flares instead of incendiary flares

Extremely durable - high impact plastic that is crush proof and corrosion proof

Reusable - Powered by rechargeable lithium ion batteries

Eco-Friendly - will not contaminate ground water and does not produce smoke or ash.

Safe - will not ignite fuel or cause a fire if tipped over

Flameless - will not cause burns when handled or scorch pavement

Waterproof for use in inclement weather

Submersible to 33 feet so it may be used for marine applications. Will float unless secured.

9 flashing patterns including SOS Rescue (Morse code)

Compact design that allows for easy storage

Powerful built in magnet - attach to any magnetic metal surface. Place on a vehicle, fence, or
other metal surface.

Can be used in any vehicle

Flares will keep a full charge for 90 days.

NFPA, DOT (FMCSA) and MUTCD compliant

Qualifies for Fireman's Relief Funding