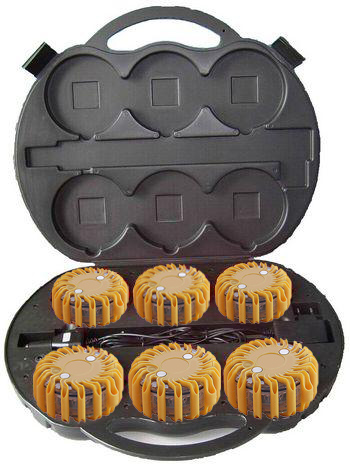 6pcs pack Amber LED Road Safety Flares
Emergency LED Road Flares,LED Road Flares,LED Emergency Road Flares,

Road Flare
Emergency LED Road Flares Are Ideal To Identify Road Hazards, Mark Detours, Underwater Repair Applications And More.
What is an LED Safety Flare?
It is a flameless, non-toxic, battery-powered flare in a plastic crushproof enclosure that is illuminated by multiple ultra-bright LED lights instead of a flame.
Extremely durable, rechargeable 16 LED flare with 9 flashing patterns and 1/2 mile visibility. Corrosion proof, waterproof and built in magnetic mount.
When you need to alert others to a road hazard or are in need of light even during a heavy rain, the LED Road Flare is a beacon that gets noticed. Because it is durable, functional in any weather condition, compliant with traffic and safety regulations, magnetic, and submersible to 50 feet, this red flashing light (also available in yellow/amber) has a million and one uses.
The LED Road Flare has 9 different flashing patterns, with the 16 bright LEDs capable of being seen up to 1/2 mile. Choose from rotate, single blink, alternating blinks, quad flash, high steady light, low steady light, 2 LED flashlight, 4 LED flashlight, and S.O.S. Rescue Morse Code. Now that's a safety flare that means business.
This rechargeable LED flare offers so many great benefits. Compared to other road flares, the LED RoadFlare excels in long-lasting durability. We're talking a crush-proof and corrosion-proof polycarbonate plastic exterior and impact resistant rubber housing. What's more, this LED red safety light offers low maintenance with an internal lithium battery that's rechargeable so there are no costly batteries or replacement concerns.
| | |
| --- | --- |
| 9 Flash Patterns | Operating Time |
| Rotate | 7 hours |
| Quad Flash | 7 hours |
| Single Blink | 50 hours |
| Alternating Blinks | 7 hours |
| S.O.S. (Morse Code) | 12 hours |
| Steady on - high | 4 hours |
| Steady on - low | 30 hours |
| 2-LED Flashlight | 7 hours |
| 4-LED Flashlight | 5 hours |


Specifications:
Light source: 16 Super bright LED's giving 360° light

Visible Distance: 300m - day, 800m - night, 15km underwater

Flash patterns: 9 different flash patterns

Magnet: High powered magnet for vehicles and road surface

Battery: Single CR123A rechargeable unit

Working time: Up to 100 hours depending on flash choice

Operating Temperature: -40°C up to 100°C

Dimensions: 108mm diameter by 35mm

Weight: 200g
Applications:
Highlight working zone on the side of the road

Traffic streaming for checkpoint or roadblock

Road Closures

Temporary helicopter landing Zone at incident

Handheld use of officer in the road

Personnel safety light, worn on clothing or Belt

Highlight Airport working zone

Increase visibility of highway construction

Highlight broken down vehicle with no lights

Speed Camera Maintenance crew