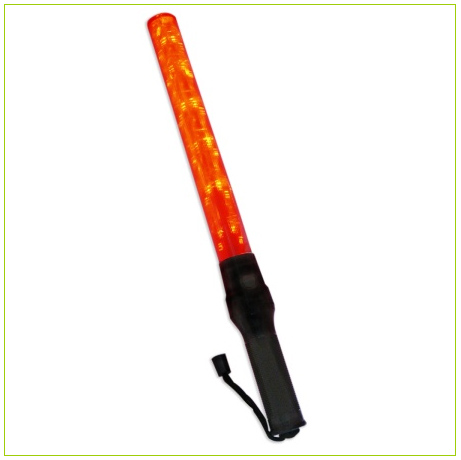 LED Traffic Wands
1.Description:
LED traffic baton , police traffic baton , LED traffic control baton .traffic safety baton ,traffic signal baton
1.Size: Lenth:41cm ,Dia:4cm

2.Battery: Two C batteries

Battery: If you need the rechargeable fuction , there would be the1.2V 2500mAh rechargeable NI-MH battery + individual charger

3.PVC or PC Pipe and ABS handle

4.Light source: LED

5.Working temperature: -20`C--+70`C

6.Working life: 3-5years

7.View Distance : more than 500meters

8.Continuous run time up to 400 hours
2.Features:
1.Time: 12 hours (alkaline batteries) or more;
2.Life:3-5 years;
3.Visible distance:Greater than or equal 300M (dark);
Traffic Baton:
1. 1 PC white LED on the top of the baton, can be used as a flashlight;
2.6 PCS red LEDs in the stick;
3. Lighting mode:6 LEDs flash/ 6LEDs lighting/top 1 white LED lighting/OFF;
4. Accessory: clip and lanyard;
5. Material: PC tube, ABS handle;
6. Use 2PCS 1.2V rechargeable batteries( included).
7. Includes an adaptor 1.2V
8.Weight is not exceed 200 grams
9.Once fully charged it should work for a minimum of 24 hrs and charging should take 4 hrs.
10. CE certificate
11.Material :ABS, PC
12.Unit size:dia3~4XL54CM

13: White box packing or color box packing as your request.
Features:
1. outer tube, impact, durable.
2. Built-in super bright reflective lattice film.

3.tied with ropes and hung on the waist for easy carrying.
4.the bottom of the magnet can be installed (also optional).
5. waterproof design, the rain can still work.
Item Satety baton

Description

Model number:

BW-4104A

Size:

Diameter:3cm Length: 52cm

Packing:

50pcs/Carton,carton size: 50*35*43 cm, G.W./N.W.(KGS):10/9

Battery:

Two C batteries




Light source:LED

Frequency

4 hz

Size

Φ5

Number

6

Out put on full charge (hours)

ST-700R/G/B/Y =40/40/40/45 hours

Color and watt

Red/G/B/Y=0.066/0.06/0.08/0.05w

Flashing style

flash-steady -closed

Working temperature

-20°c—+70°c

Working life

3-5 years

Materials:

pipe=pvc

handle=abs

View Distance:

more than 500 meters

Specifications

With superbright LED, high alarm effect

High reflective film inside, excellent alarming effect in the night

With a rope, easily handle

Water proof, it can work in the rainy day
The LED Traffic Wands is the latest in traffic directing safety, serving as both a safety baton and flashlight. This LED Traffic Wands l features a durable ABS casing, polycarbonate lens, and a magnetic wand base.
The Non-recharegable LED Traffic Wands is battery operated (requires 3AA Alkaline batteries, not included) and has four operating modes.
The rechargeable LED Traffic Wands is a multi-purpose alternative to traditional traffic flares and other types of emergency light batons. Giving you a sturdy, compact and rechargeable flare suitable for any emergency highway pack or survival kit. These handheld batons are bright to replace classic incendiary flares and feature a whole slew of extra features, too. The LED Traffic Wands is visible for up to half a mile, making them useful for a host of warning scenarios.

The bright red LEDs replace the dangerous chemicals of incendiary flares, reducing the risk of fires or burns. Encased in unbelievably tough polycarbonate, these light batons are waterproof (up to 50 feet), crush-proof (run it over with a truck and it will keep on glowing), and corrosion-proof. Things do not get much tougher than that!

The LED Traffic Wands are with 5 different modes of operation:
Rotate - 5 hours of run time

Quad Flash - 10 hours of run time

Alternating Blinks - 3 hours of run time

SOS Rescue (Morse Code) - 10 hours of run time

Steady On - 4 hours of run time

The LED Traffic Wands come with a 120V wall charger, a 12V car charger and even a USB charger, so you will never be without the ability to charge the flare should you get into dire straits. When fully discharged, the flare takes 4 - 6 hours to recharge.

These electronic flares also feature a high strength magnet allowing you to easily affix them to any ferrous metal surface.The LED Traffic Wands have been approved for use in a whole range of professions: aviation, trucking (the flares meet DOT requirements for commercial vehicles), marine and maritime work and public safety for example; they are also great for personal side safety (to signal for help, mark detours or direct traffic). While their tough nature means they can take a hell of a beating and will last you for years.