9 In 1 Rechargeable Led Flares Black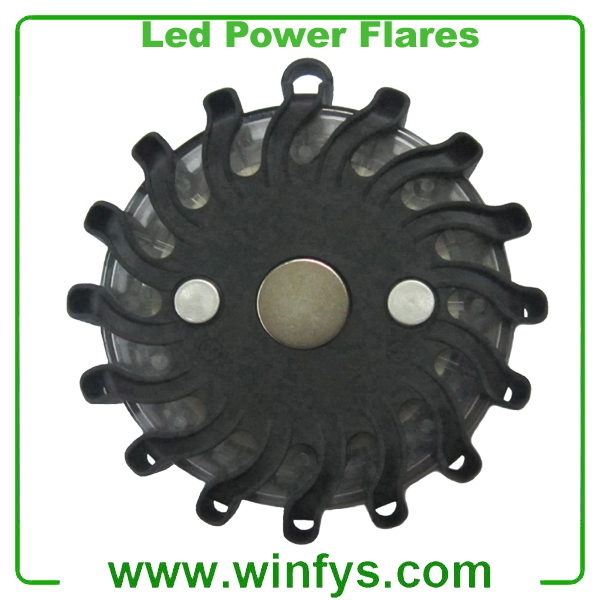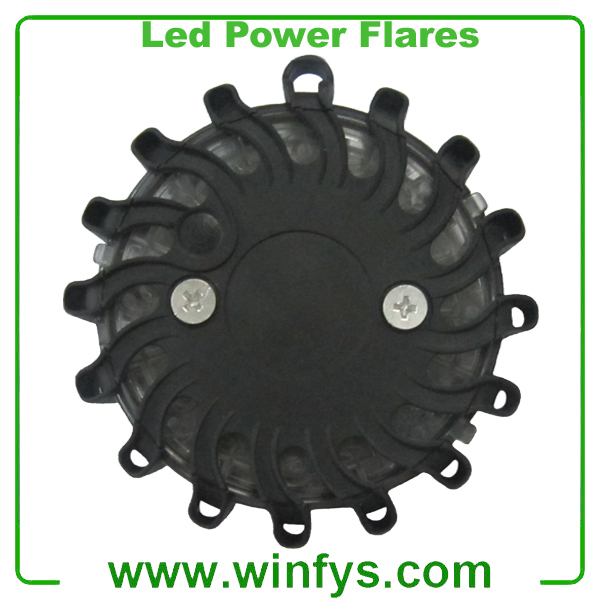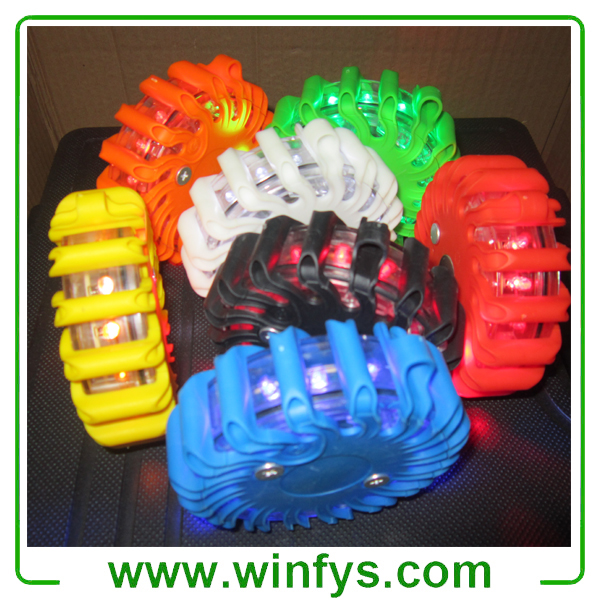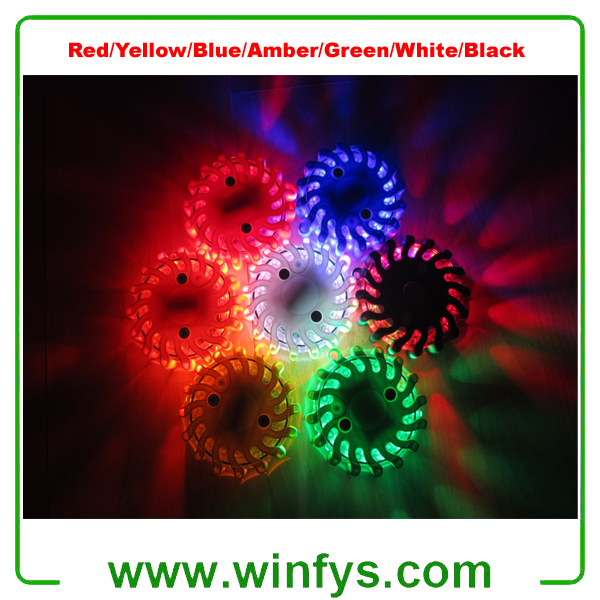 16 led flares black
rechargeable led flares
RECHARGEABLE and WATERPROOF
with HOME and CAR CHARGERS
9-IN-1 Flash Patterns
PORTABLE LED FLARES
with Magnetic Base
Designed for shock, vibration, andwater-resistance.
Perfect for Agriculture, HarvestingSeason, Tractor, Combine.
Truck - Trailer - Snowplow - Car - GolfCart - Boat - Marina - Bike
When you need to alert others to a road hazard or are in need of light even during aheavy rain, Rechargeable led flares is abeacon that gets noticed. Because it is durable, functional in any weathercondition, compliant with traffic and safety regulations, magnetic, andsubmersible to 50 feet, this red flashing light (also available inyellow/amber) has a million and one uses.
The Rechargeable led flares has 9 different flashing patterns, with the16 bright LEDs capable of being seen up to 1/2 mile. Choose from rotate, singleblink, alternating blinks, quad flash, high steady light, low steady light, 2LED flashlight, 4 LED flashlight, and S.O.S. Rescue Morse Code. Now that's asafety flare that means business.
Thisrechargeable Rechargeable led flares offers somany great benefits. Compared to other road flares, the Rechargeable led flares excels in long-lasting durability. We'retalking a crush-proof and corrosion-proof polycarbonate plastic exterior andimpact resistant rubber housing. What's more, this Rechargeable led flares offers low maintenance with an internallithium battery that's rechargeable so there are no costly batteries orreplacement concerns.
Emergency Led flares, Led flares, LED Emergency Road Flares, Emergency Road Flares, Emergency Flares, Led flares
| | |
| --- | --- |
| 9 Flash Patterns | Operating Time |
| Rotate | 7 hours |
| Quad Flash | 7 hours |
| Single Blink | 50 hours |
| Alternating Blinks | 7 hours |
| S.O.S. (Morse Code) | 12 hours |
| Steady on - high | 4 hours |
| Steady on - low | 30 hours |
| 2-LED Flashlight | 7 hours |
| 4-LED Flashlight | 5 hours |
Features:
LED safety light,rechargeable LED safety lamp,LED warning light,LED warning lamp, LED power flare,LED traffic light,LED traffic lamp,LED emergency light,LED emergency lamp,9-in-1 super flare LED safety light
Completely waterproof: It even floats! Perfect for boats and watercraft safety, also it is no problem
working underwater 1/2mile.
Portable: Small enough to keep in a saddle bag, tank bag, or even those small underseat storage spaces that most bikes have. Superior Visibility: Super bright LED array can be seen for miles at night, but is bright enough to provide you extra protection during the day as well.
360° Coverage: units clipped to seats, saddlebags or backpacks can provide 360° lighting coverage. Lateral illumination, a common weakness of other emergency lights, is provided.
Easy to use: Press the button for 2 seconds to light it up, and press again for flashing mode.

1. Material:plastic
2. with strong magnet base
3. with 12v car chareger or 110v/240v ac wall charger
4. One heat resistant rechargeable CR123 lithium battery
5. PCB with over-charging function
6. 16 Super bright red LEDs and balck shell
7. Lighting distance: 1/2 mile
8. 24PCS super bright orange LED bulbs, working life is more than 100,000 hours
9. Working model: 9 in 1 flashing
10. Weight: 230g
11. Color: Yellow, red, blue, green, and white
12. Size: 10 diameter, 3.5cm high
13. Charging time: two to three hours
14. Working temp: --40 degree ---- + 60 degree
15. Life time: Three to five years
16. Warranty: 6 months
17. Easy installation, no maintenance
18. Environmentally friendly, no pollution
19. Led energy-based power source
20. High visibility LED's help ensure easy and safe night driving
21. Ideal for highways, parking lots, roads and similar isolated or stand-alone traffic applications
Here are some typical situations where the LED Flares can be used:

On The Road:
As a road flare to slow down traffic or signal the need for traffic safety. An LED light makes a better road hazard marker than the flammable flares which are being banned by many states.

As a road construction flare to warn of road work, moving vehicles or other road hazards ahead. The amber safety light (red is also an order choice) is sure to get noticed by drivers.

As a detour beacon to signal a change in traffic conditions. It's a detour flare that will keep traffic moving.

As a movable detour LED light or road hazard flare. The strong magnet attaches to construction or highway trucks, cars, signs, or other magnetic metal surface. The blinking caution light will alert drivers to road work, accidents, or other road hazards.

In any situation calling for a road hazard LED light. It's strong and shock resistant and continues to operate even if cars or trucks drive over it.

On The Water:
These waterproof LED safety lights float, making them suitable for a myriad of marine uses, including boater emergency safety. Place and anchor on top of the water to designate a work zone or prohibited area.

The underwater scuba flare can be used by divers to mark an exploration or worksite site, or as an emergency flare to signal for help.

As an underwater flashlight. The LED Flares has nine different signal types, two of which serve as a LED flashlight.

Boaters equip their personal watercraft with the LED Flares to use as an emergency LED light to signal for help.

On The Job:
For emergency responders, this emergency road light is sure to slow or stop traffic. The emergency road flare is indispensable to police, firefighters, rescue personnel and others serving as emergency responders.

In the LED flashlight mode, police and firefighters can see better in dark or smoky areas.

As a police road flare when conducting traffic stops. The police LED light gets noticed and ensures traffic safety when in use.

As a military road flare on or off the base. The military LED light can be used for safety, traffic control, or cautionary measures.

As a flashing road light for making repairs on the side of a road, sidewalk, or other public space.

The flashing red light also is ideal for any construction site, utility work area, or other indoor or outdoor worksite where a blinking traffic light would be beneficial.

For Personal Safety:
Whether driving a car, truck, boat or other vehicle, the LED Flare is an ideal emergency signaling device. Its versatile design allows it to lie flat on any surface or on its edge to accommodate any emergency signaling need.
This led flares also complies with traffic and safety codes. For example, it meets theU.S.Departmentof Transportation, the Manual on Uniform Traffic Control Devices (MUTCD) andthe National Fire Protection Association (NFPA) standards for traffic safety.And because no smoke vapors, ash, flames, or other harmful byproducts arecreated when in use, the LED safety light also meets tough state emissionregulations, including California'sVOC emission guidelines.