Led Rechargeable Safety Puck
9 in 1 LED Magnetic Electric Flare & Flashlight
Wall Outlet and Cigarette Chargers
Magnet base attaches to vehicle or metal surface
The Rechargeeable Safety Puck work well and are a great safety and emergency light as well as ones to keep around the home for safety and regular use.

Led Rechargeable Safety Puck is the 9-in-1 highly visible LED flare. The Led Rechargeable Safety Puck is an ingenious safety product that should travel with everyone who drives a motorcycle or car. This compact ultra bright flare will make you and your vehicle visible from a half mile away. The ultra bright led light has 9 different functions and light patterns. Several light patterns are directional so it can be used as a flashlight for roadside repairs and inspections.

If you have to stop on the side of the road, just grab the Led Rechargeable Safety Puck and it attaches to your motorcycle or car in seconds with the heavy duty magnets. On coming traffic will see you better and much better thus greatly increasing safety. Grad one for your motorcycle and each car and you and your family will have the peace of mind of having visibility in the event of a roadside stop.


The Safety Puck is a red LED rechargeable light with 9 separate light and flashing combinations for safety and emergency use that recharges easily with the enclosed adapters.
The Safety Puck includes the puck light itself, a magnetic base for charging, a car outlet and household plug in with a USB cable for charging. The Safety Puck has the USB cable for plugging the charge base into either the household adapter or the vehicle adapter as well as your computer or other USB powered device.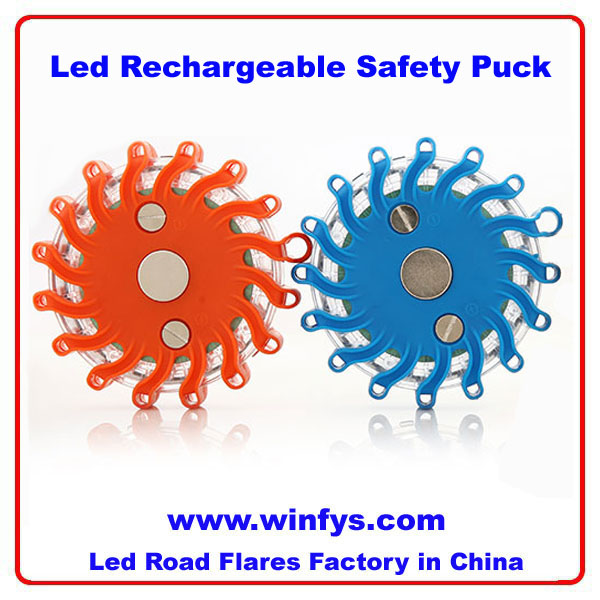 Led Rechargeable Safety Puck Application:

Public Repair and Service companies, Motorcyclists, Scuba Divers. They float and are visible when under water, Boaters, Snow Mobiles, Law Enforcement, RTV, Safety Flare for the side of road, identify road hazards, signal for help, mark detours, Children play Ice Hockey with them and companies have purchased them for fork lifts, or repair applications. Ideal for emergency responders.

Led Rechargeable Safety Puck Features:
- Mounts to side of motorcycle or car with built in magnet
- Flare is visible up to a 1/2 mile
- So strong you can drive a vehicle over it
- Ideal for boats, ATV, etc
- 9 combinations light/flashing
- Waterproof and it floats
- 16 super bright LED giving 360 degree coverage
- Strong magnet for metal surfaces
- Operating temperature from -20 to 130 F/-40 C to 100 C
- Run time from up to 100 hours
- Day visible 1,000 feet
- Night visible 3,000 feet
- Rechargeable 12 /24 & 110/220 Volt
- Includes wall outlet charger and cigarette lighter charger