Rechargeable Magnetic Supreme Led Road Flares Truck Led Strobe Lights Roadside Emergency Flares
This magnetic supreme led road flares emits 360°ultra-bright light from an array of 16 LEDs, visible for up to1.2 miles (2Km) away. Itis waterproof and crushproof. You can run it over with a tank. Unlike flashlightswith alkaline batteries or chemical light sticks, Safety light units can handleextreme temperatures and extreme situations (intrinsically safe), and featurean impressive 2 years storage/shelf life, using lithium batteries that won'tever leak. This same technology used by first responders and the military isnow available for you and your family. This safety light is ideal for breakdown& emergency roadside situations. It has 9 different flash patterns and is withthe following features.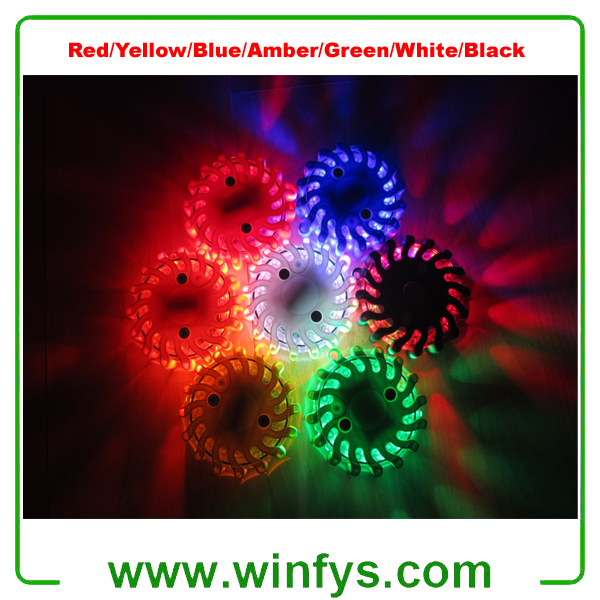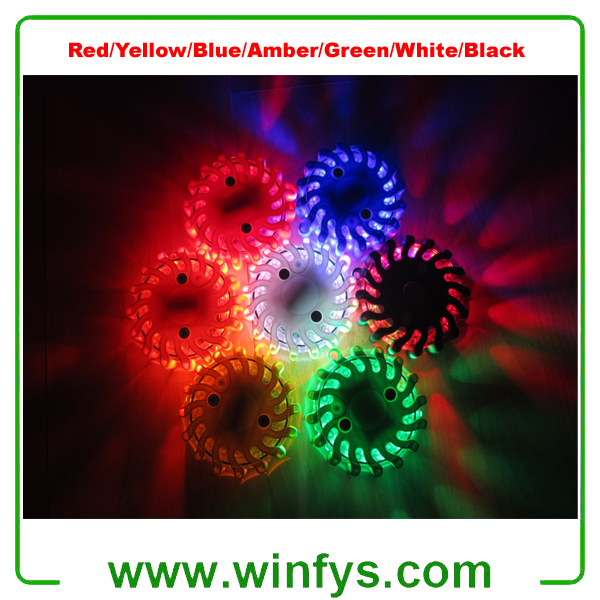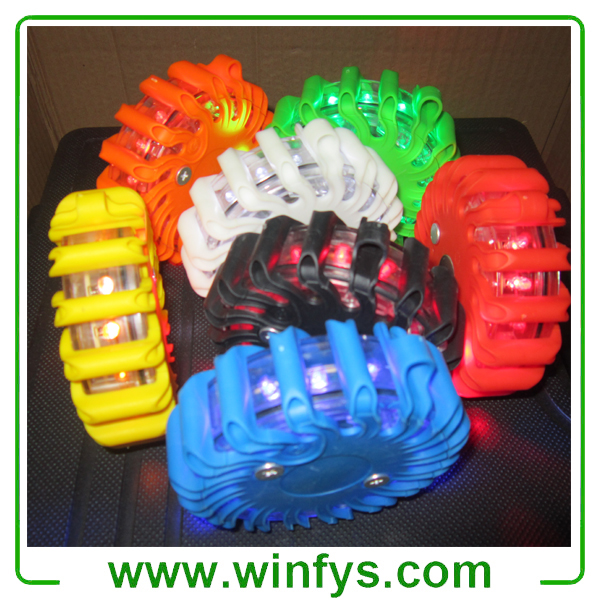 Magnetic Supreme Led Road Flares Features



Superior Visibility: Super-bright LED array can be seen formiles at night, but is bright enough toprovide you extra protection during the day, as well.
360° Coverage: Led Flares units clipped to seats, saddle bags or backpacks can provide 360°coverage.
Magnet Base: It is with powerful magnet and can attach toconstruction or highway trucks, cars, signs, or other magnetic metal surface.
Compact:LED Flares units are about the size of a hockey puck.They can be mounted or stored just about anywhere on your bike.
Versatile:LED Flares units can be used for traffic control, as a warning light, as a rescue beacon and great for police, firefighter, EMTs, rescuefirst respondersand members of emergencyresponse teams
Waterproof: It is waterproof and can be used in rainy day.
Easy to carry: Due to compact size it is easy to carry ina saddle bag, tank bag, or even those small under seat storage spaces that mostbikes have.
Magnetic Supreme Led Road Flares Flash Pattern
9 Flash Patterns

Max. Run (Operating) Time for rechargeable Lithium battery

Max. Run (Operating) Time for non-rechargeable CR123A battery

Max. Run (Operating) Time for rechargeable AAA battery

Rotate

9 hours

12 hours

15 hours

Double Flash

14 hours

16 hours

22 hours

Single Flash

23 hours

58 hours

70 hours

Alternate Flash

3 hours

6 hours

8 hours

S-O-S

7 hours

9 hours

12 hours

Steady-ON High

1.5 hours

1.5 hours

2 hours

Steady-ON Low

13 hours

15 hours

17 hours

2 LEDS Flashlight

8 hours

12 hours

14 hours

4 LEDS Flashlight

4 hours

6 hours

7 hours

LED Flares weight

6.00oz(170g)

5.80oz(165g)

6.70oz(190g with AAA); 5.50oz(155g without AAA);

LED Flares size

4.25"(275px) diameter X 1.25"(85px) height

Operation/Storage temperature

-40℃ to +100℃ or -40℉ to +212℉
Instruction:
1. Press ON/OFFbutton to switch ON
2. Push ON/OFFbutton to select from 9 different flash patterns
3. Press ON/OFFbutton and hold down for 3 seconds to switch OFF
Charging
1. Put on flares with front side facing up. The (+) and (-) terminal symbols will be aligned.
2.Plug 12V/24V car charger or 120V/220V wall charger into power port of charger. 3. Connect to power supply, the indicatorlight will light up as below.
Charging:The indicator light aside flares turns RED and make a Green/Red alternating flash.
FullyCharged: The indicator light aside flares stop flash and keep steady.
Note:
If indicator light turns red, notflashing, it means flares is placed incorrectly and can not be charged.




Magnetic Supreme Led Road Flares Kits
Package :1 flare+ 1 car charger+ 1 home charger +1 connector+1 connection line
Available colours: red,yellow, blue, amber, green, white
Magnetic Supreme Led Road Flares Application:
*The uses are limited only by yourimagination. Customers who need a reliable, ultra-rugged, ultra-bright lightcan range from SCUBA divers, hikers, and cyclists .
*Search & rescue (SAR) operations: tagareas and items; personal safety light; emergency response teams
*Led Warning Light use as lantern in case of power failure, earthquake, hurricane or other disaster
*Attach as a safety light for bicycles andmotorcycles
*SCUBA diving / boating and marine operations
*Work zone safety: mount on cones orbarricades
*Magnetic Led Warning Light seen in the dark. Be brightat night on the road at a construction
site or work site. Alert other workersor passers-by that you need help and are under duress when
shouting does not help and want help from emergency services
Magnetic Supreme Led Road Flares

is Must-Have device for car driver!
Magnetic Supreme Led Road Flares

is a great device to make you and your car seen and safe. If your car breaks down at night, in the fog or rain day,Magnetic Rechargeable Led Road Flares will make your car seen to prevent traffic accident at night or on a rainy or foggy day. It is an essential piece of equipment for police, firefighters, EMTs, rescue services, first responders, members of emergency response teams and the general public.