Rechargeable Led Mega Flares
1.Powered by CR123 lithium battery
2.Colors optional:
Red, Amber, Blue, Yellow, Black, White, Green
5. With magnetic base to attach to car and c
an also be placed safely on the ground and roadway. Casing is constructed of super high strength plastic: PC, TPE and TPR, it is even no problem allowed a car drive over it!
6.Completely waterproof and it floats
6.V
isible up to a 1/2 mile away
7. Product size: Dia. 10. 8cm, high 3. 5cm
10.Safe and eco-friendly: No spark, open flame, fumes or toxic chemicals.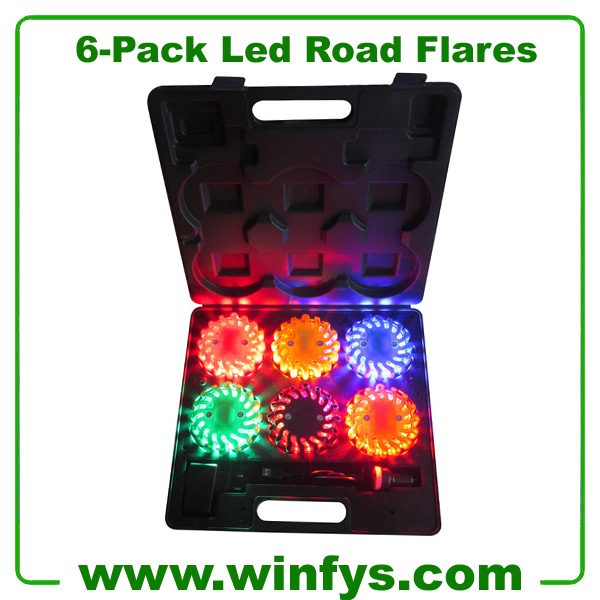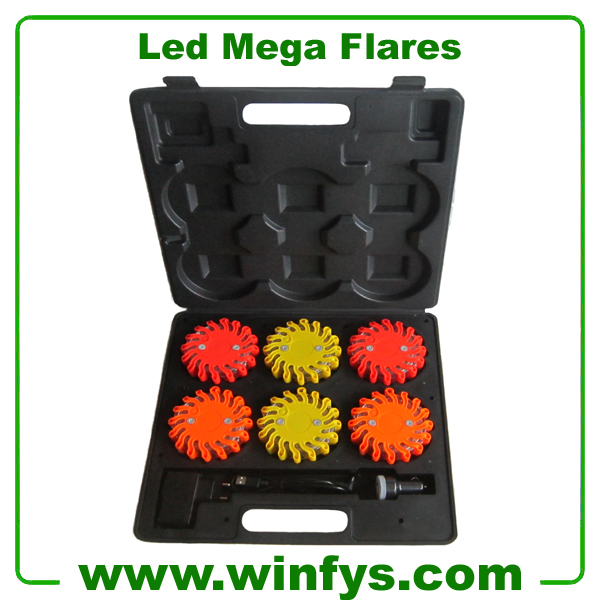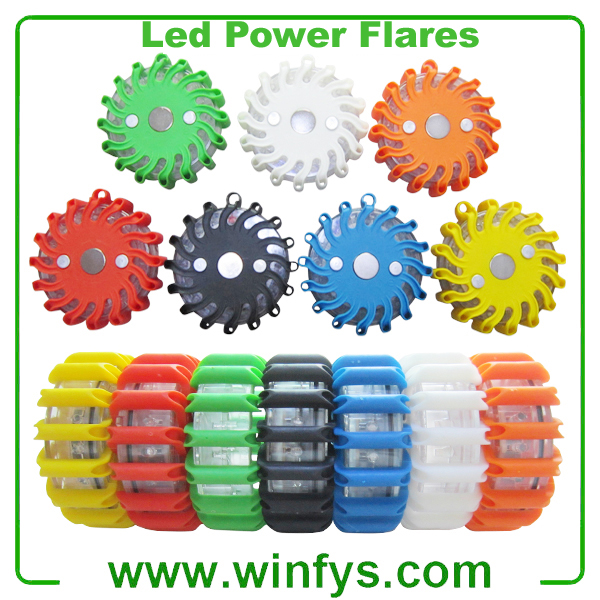 Rechargeable

LED Mega Fares

is for use in any vehicle. No disposable batteries required.An

LED Mega Flares

that does not produce a flame, smoke, or harmful bi-products and does not require batteries! It is rechargeable and it is ready for use when needed.
LED Mega Flares, rechargeable LED Mega Flares, LED warning flares , LED traffic flares light,LED traffic lamp,LED emergency light flares, LED emergency flares,9-in-1 super flare LED safety flares
Completely waterproof: It even floats! Perfect for boats and watercraft safety, also it is no problem
working underwater 1/2mile.
Portable: Small enough to keep in a saddle bag, tankbag, or even those small underseat storage spaces that most bikes have.
Superior Visibility: Superbright LED array can be seen for miles at night, but is bright enough to provide you extra protection during the day as well.
360° Coverage:units clipped to seats, saddlebags or backpacks can provide 360 degree lighting coverage. Lateral illumination, a common weakness of other emergency lights, is provided.
Easy to use: Press the button for 2 seconds to light it up, and press again for flashing mode.
LED Mega Flares Specification
1.Material:plastic
2.with strong magnet base
3. with 12v/24v car chareger or 110v/240v ac wall charger
4. One heat resistant rechargeable CR123 lithium battery
5. PCB with over-charging function
6. 16 Super bright LEDs
7. Lighting distance: 1/2 mile
8. 16 PCS super bright orange LED bulbs, working life is more than 100,000 hours
9.Working model: 9 in 1 flashing
10.Weight: 230g
11. Color: Yellow, red, blue, green, and white
12. Size: 10 diameter, 3.5cm high
13. Charging time: two to three hours
14. Working temp: --40 degree ---- + 60 degree
15. Life time: Three to five years
16. Warranty: 6 months
17.Easy installation, no maintenance
18. Environmentally friendly, no pollution
19. Led energy-based power source
20. High visibility LED's help ensure easy and safe night driving
21. Ideal for highways, parking lots, roads and similar isolated or stand-alonetraffic applications.