Amber Yellow Green Red Blue White Black Led Road Flares Led Power Flares Led Flares
Led Power Flares is especially designed for police, firefighters and rescue first responders to assist them during their work. This unique technology is now available to consumers and essential to keep in your automobile and to take along on your next boating, biking or hiking trip.
This compact led safety puck light emits 360° of ultra-bright light from an array of 16 LEDs, visible up to 10 miles away. led power flares manufacturersis very durable, water proof and can resist extreme temperatures.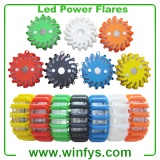 1.Product Feature
9 Flash PatternsOperating Time
Rotate 7 hours
Quad Flash 7 hours
Single Blink 50 hours
Alternating Blinks 7 hours
S.O.S. (Morse Code) 12 hours
Steady on - high 4 hours
Steady on - low 30 hours
2-LED Flashlight 7 hours
4-LED Flashlight 5 hours

2.Product Specification / Models
- Mounts to side of motorcycle or car with built in magnet
- Flare is visible up to a 1/2 mile
- So strong you can drive a vehicle over it
- Ideal for boats, ATV, etc
- 9 combinations light/flashing
- Waterproof and it floats
- 16 super bright LED giving 360 degree coverage
- Strong magnet for metal surfaces
- Operating temperature from -20 to 130 F/-40 C to 100 C
- Run time from up to 100 hours
- Day visible 1,000 feet
- Night visible 3,000 feet
- Rechargeable 12 /24 & 110/220 Volt
- Includes wall outlet charger and cigarette lighter charger



The Power Flares has 9 functions with the ring of red LED lights that circle it giving you the various combinations using an included computer circuit to light up the RED LED's. The light combinations include rotating around the puck, quad flash, single blink, alternating blinks, SOS Morse code, steady on with high and low output, 2 and 4 LED flashlight.
The Power Flares is a great safety light with the various attention getting flashing and blinking lights along with the on with two or four of the LED's to use for a regular flashlight. The two and four LED lights work well for emergency use like changing a tire or finding your way when the power goes out while the rest are great for attention getting.


3.Rechargeable LED Power Flares Application:
Public Repair and Service companies, Motorcyclists, Scuba Divers. They float and are visible when under water, Boaters, Snow Mobiles, Law Enforcement, RTV, Power Flares for the side of road, identify road hazards, signal for help, mark detours, Children play Ice Hockey with them and companies have purchased them for fork lifts, or repair applications. Ideal for emergency responders.