Monopod Handheld Wireless Bluetooth Selfie Stick
An extendable stick you can put your phone on so you can take a selfie from farther away.
Selfie Camera Stick, Selfie Stick, Selfie Pod, Selfie Rod, Selfie Pole, Selfie Portrait Stick
Used with compact cameras, camera phones, microphones or more

With flexible grip head and standard 1/4" tripod thread

7-Section lightweight stainless steel construction

Extends from 23 cm to 115cm in length

Includes camera phone mount which fits most camera phones

Take the perfect selfie!

Built-in Bluetooth technology or bluetooth shutter

Fits iPhone and Android models including the new iPhone 6!

Extends from 9.25" (23.5cm) to 40" (103cm) in length!

Lightweight with sturdy non-slip grip

Bluetooth Remote Shutter

Compatible with: iPhone 4/4s/5/5s, iPad 2/3, iPad mini, iPod Touch 4 or newer, Samsung Galaxy S2/S3/S4, Note1, Note 2, Note 3, Tab HTC Sony smart phone 2, Bluetooth Version V

Transmit frequency:2.4GHz-2.4835GHz

Battery life: CR2032x1 cell, approximately 6 months when used 10 times a day.



Specifications:

* Material : ABS+PVC+stainless steel
* Camera interface : Universal 1/4 screw
* Size of product : 7 segment
* Color: green/black/rose/red/black/white/blue
* Net weight:160g
* Gross weight:0.25kg
* Extends to 1100mm
* Closes to 220mm
* Fits easily in pocket
* New variable length position
* Suitable for: Traveling, Video diaries, Video blogging, Hiking / camping,
Weddings, Parties, The beach, Concerts, Aerial Photos, Sports event.
Features:
* Small enough to fit in a handbag, backpack or jacket
* Sturdy stainless steel body with soft handle in a variety of pink, lime green or black
* No need to ask strangers to take photo
* Enjoy total peace of mind that your phone wont be stolen
* Great for group or overhead shots at concerts and festivals
* Delivers amazingly dynamic photos that your friends and family will love
* Has practical business or news reporting purpose enabling self shooting videos
* Using your imagination, the versatility of this gadget is almost limitless.
*Lightweight selfie stick with bluetooth shutter for iPhone, Android, Gopro and other small cameras.
*Improve your selfie pictures with these bluetooth monopod selfie sticks. Light weight, portable, easy to install and remove Ideal for outdoor, travel and timer shoots.
*Non-slip soft foam handle Made of aluminium alloy and plastic material.
*Take your instagram and facebook pics to a new level!!
*You will never have to ask anyone to take your pic again!!
*Selfie sticks are awesome!! Great for group shots at concerts and festivals.
*With our bluetooth selfie sticks you will never have to look for a mirror again!
*Take it with you travelling and take the best pics ever in front of famous landmarks and monuments!!
*Get that perfect flattering angle every time!!
*Take the perfect selfie anytime and anywhere!
More Selfie Sticks for your choice.
Conact us for more style or to customize your selfie stick.
1. Built-in Bluetooth Remote Control Selfie Stick
Bluetooth pairing is a must and used for partial smartphones only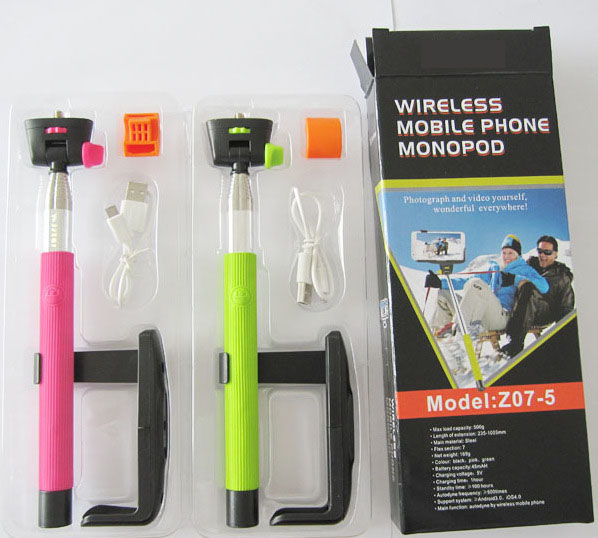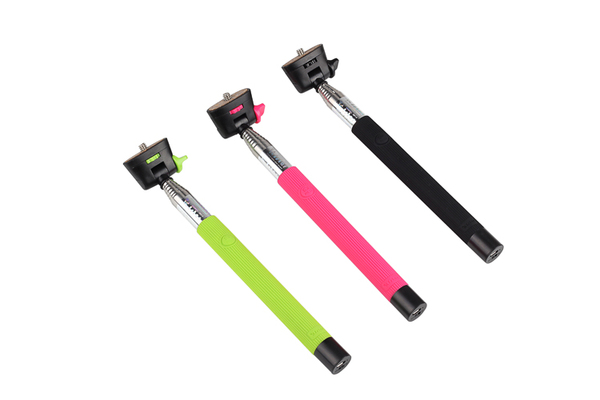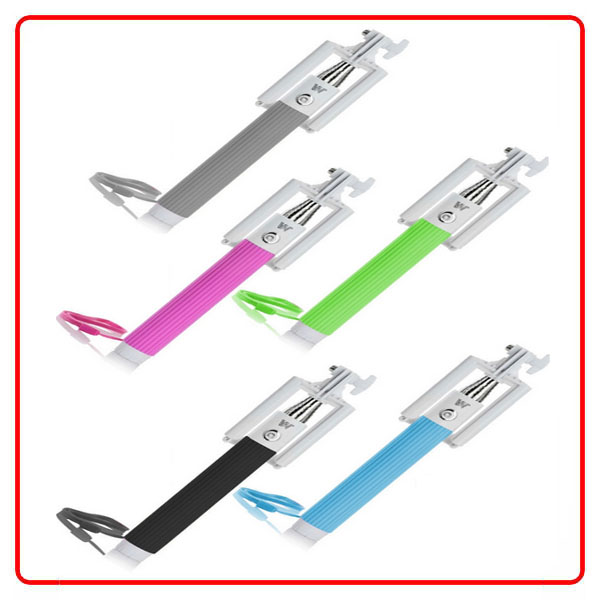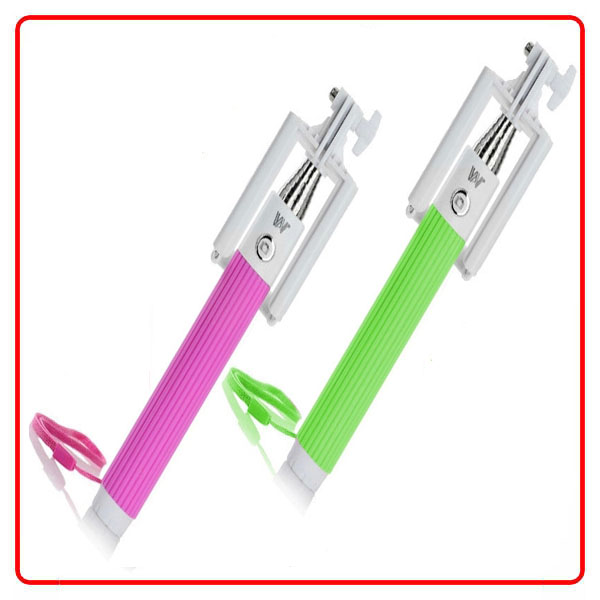 2.Selfie Stick with Bluetooth Remote Shutter
Bluetooth pairing is a must and used for partial smartphones only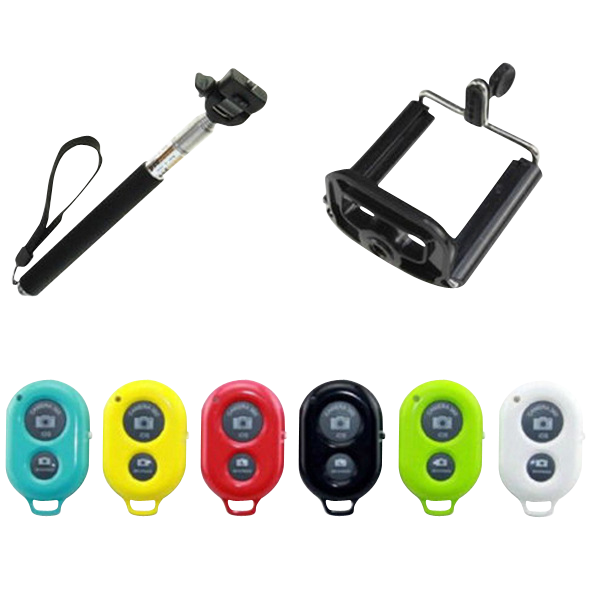 3.Selfie Stick With Superwave Remote Shutter
No need of bluetooth pairing and used for all smartphones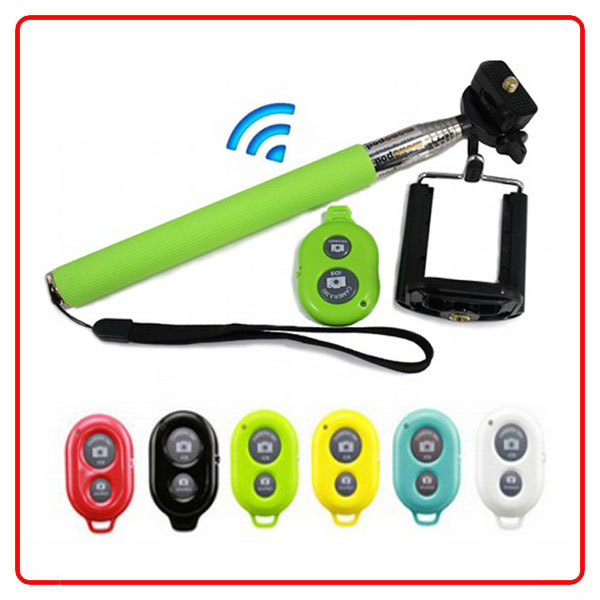 4.Wired Cable Take Pole Selfie Stick
Selfie Stick With Cable Control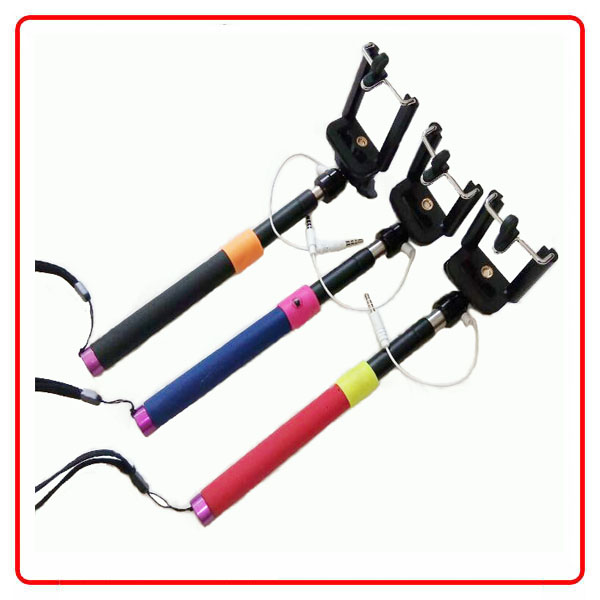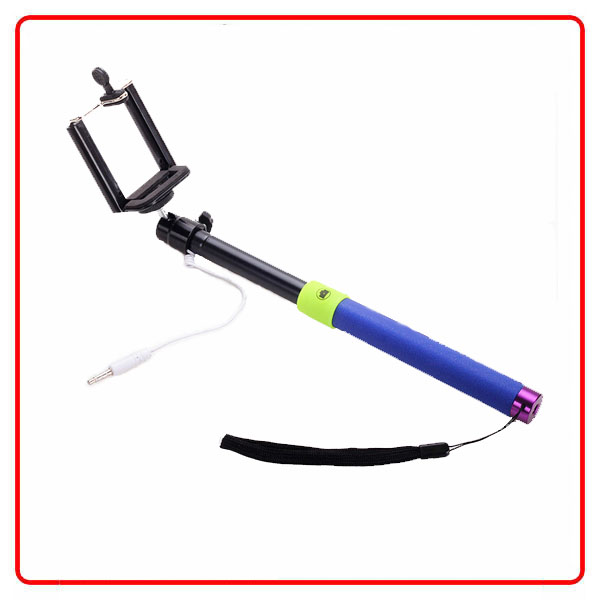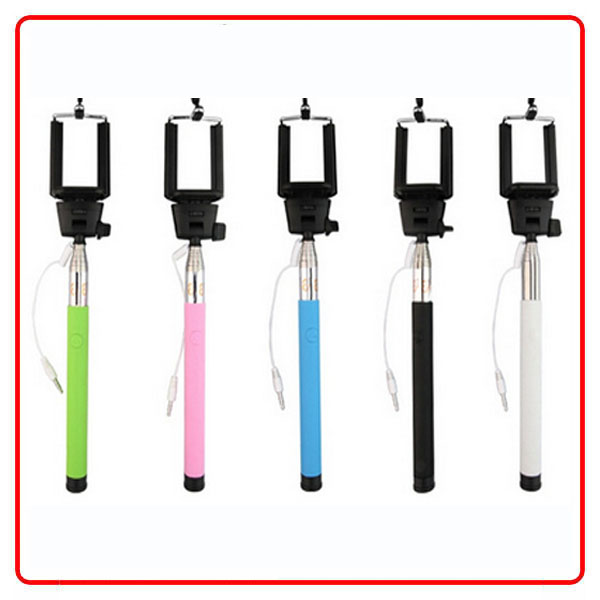 No Bluetooth, No Wifi, and No Battery



5.Standard Selfie Stick
Used alone or together with bluetooth remote shutter or superwave shutter.

条
6.Bluetooth selfie sticks with focus adjustable




How to Use Monopod Wireless Bluetooth Selfie Stick:
* Connect your camera to monopod adapter using tripod insert.
* Fully extend the monopod.
* Setup time or video mode on camera and press capture button.
* Extend, aim, smile tip: make sure the lens is pointing at you and you will be in the picture.
* Easy to use! Just set the timer, extend the rod, and you're ready to shoot!
The Selfie Stick enables you to get the whole family in a selfie on your phone or get above the crowd to capture a better view. It fits most compact cameras or phones and has a non-slip foam handle and a wrist strap. It's easy to fit into a handbag or satchel and is able to be folded. With a standard tripod hole, you fit it in any 1/4" tripod stand.

The remote Bluetooth remote shutter allows you to place your smartphone or tablet within 10 meters of Bluetooth range. It's easy to set up and easy to use.



How to use the Selfie Stick
Step 1 : Screw the smart phone clip in to the top of the selfie sick and tighten the turning wheel. You can screw a camera with mounting directly here.

Step 2 : Place your smart phone or camera in the clip by lifting the tab at the top and gently placing it on your phone till tight and secure.

Step 3 : Expand the selfie stick pole to the required length.

Step 4 : Pair the Bluetooth shutter remote with your device.

Step 5 : Press the button on the Bluetooth remote to start taking awesome Selfies!

How to use the Bluetooth Remote
Step 1: Switch on Bluetooth remote (on side of remote).

Step 2: Open the phone's settings (Settings icon).

Step 3: Select Bluetooth.

Step 4: Turn Bluetooth on.

Step 5: Search for bluetooth and pair bluetooth connection.

Step 6: If you can't find the connection, please repeat the above operation, until the pairing is successful. If the operation is unsuccessful, please check battery.

Step 7: Remember to switch off the Bluetooth remote after use to conserve the battery life.
Function
wireless monopod
| | |
| --- | --- |
| Suitable | For mobile phones with above Android3.0 / IOS4.0 system |
| Folded Length | 23.5CM |
| Extended Length | 115CM |
| Flex Section | 7 sections |
| Transmit Speed | 57~723Kbps |
| Material | ABS+PVC+stainless steel |
| Contact Terms | Point-to-Point |
| Weight | 160g |
| Battery | Lithium-ion battery ,45mAh capacity |
| Charging voltage | 5V DC |
| Charging time | 1 Hour |
| Stand by time | 100 Hour |
| Autodyne frequency | >600 times |
| Color | Green / Red /Black / Blue |
| | |
Universal Adjustable Phone Mount Holder - Suits Iphone 5 5s 5c 4 4s Samsung S4 S3 - Compatible with IOS 4.0 Android 3.0
Taking self-portraits and videos has never been so easy !
Photograph and video yourself with selfie stick anytime and anywhere !