IP68 Aluminum Solar Led Road Studs Led Road Markers Light Without Post
Solar Road Stud (Solar Road Marker, Solar Pavement Marker, Solar Cat Eye) is a safety device to provide great visibility for drivers at night and during bad weather conditions and prevent fatal

accidents and serious injuries caused by hidden and hard-to-see center lines.
1.Features for 2+2 Leds Solar Road Markers
This Light control Aluminum Solar Led Road Stud can work automatically at night
according to the environment brightness.Microprism design can reflect automaticallyPC shell anti-impact, strong and durable.IP68 waterproof design, it can still work normally in the rain.
1.The aluminum road stud is produced by mould in one punch, no need to assemble, which greatly improve its load capability.
Solar battery, electronic component and LED indicators are sealed in road stud with special technique, the road stud
is strictly water proof, which can be used on ponding road for the long run.
2. Upside of the road stud is designed with embossed parallel stiffeners which strengthen the stud and protect
solar panel from being crushed by the wheels.
3.Additional wearresisting layer is increased on the upper surface, which prevents the surface from being wear away, and improve the efficiency of solar energy transfer.
4.Intelligent control IC, imported precision potentiometer, heat-resistant highvolume rechargeable batteries
are applied in the road stud, which ensure its service life and excellent performance.
5.LED indicators are mounted in one side or double side according to customers' requirement.
6.The road stud is designed with handgrips and screw holes on both sides, which can be installed firmly on the road.
7.Easy to install.
8.The road stud is applicable to pavement, roadside edge, kerb stone, port and so on.
2. Specification for 2+2 Leds Solar Road Markers
1.Mono-crystalline silicon solar panel 2.5V/120MA
2.NI-MH rechargeable battery 1.2V/800MAH
3.Charging:8 hours fully charged
4.Max Load Capacity>10 tons
5.Ligh source:φ5 LED( 2+2 leds)
6.Mode:Flash (2Hz±20%) 13 days or steady(constant) 3 days
7.Activate Condition:<500Lux

8.View Distance:>500m
9.Service Life>3 years
10.Working Temperature:-20℃~+70℃
11.Body size:105*105*23mm;
12.Inner Box Size:120*120*50MM(2pc/box), 660g(2pcs)
13.Carton size:400*275*280MM (60pcs), 21kgs
14. Install: double fix the stud with adhesive and screw
make sure it will not loose under long term pressure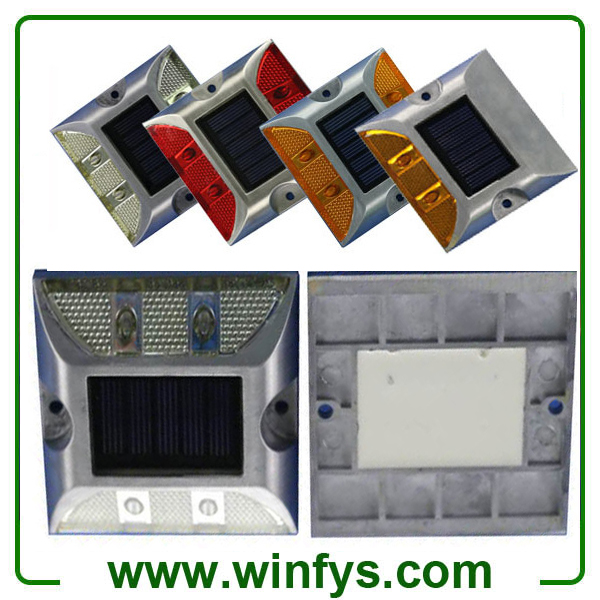 3.Specification for 3+3 Leds Solar Road Stud
1.solar panel 2.5V/120MA
2.NI-MH rechargeable battery 1.2V/800MAH
3.Flashing:13 days after fully charged
4.Max Load Capacity>10 tons
5.Ligh source:φ5 LED
6.Mode:Flash (2Hz±20%) or steady(constant)
7.Activate Condition:<500Lux
8.View Distance:>500m
9.Service Life>3 years
10.Working Temperature:-20℃~+70℃
11.Body size:105*105*23mm;
12.Inner Box Size:120*120*50MM(2pc/box), 660g(2pcs)
13.Carton size:400*275*2800MM (60pcs), 21kgs
14. Install: double fix the stud with adhesive and screw
make sure it will not loose under long term pressure