Plastic Solar Road Markers Solar Pavement Markers Solar Road Stud Solar Dock Light
The plastic solar road marker features Charging at day and lighting at night automatically
1.Assists in clear and visible traffic guidance

2.Works even under extreme weather conditions
3.Starts flashing at night or in case of inclement weather
IP68 Highway Reflective Markers, PC Plastic Solar LED Panel Road Stud, Round Reflective RoadMarkers.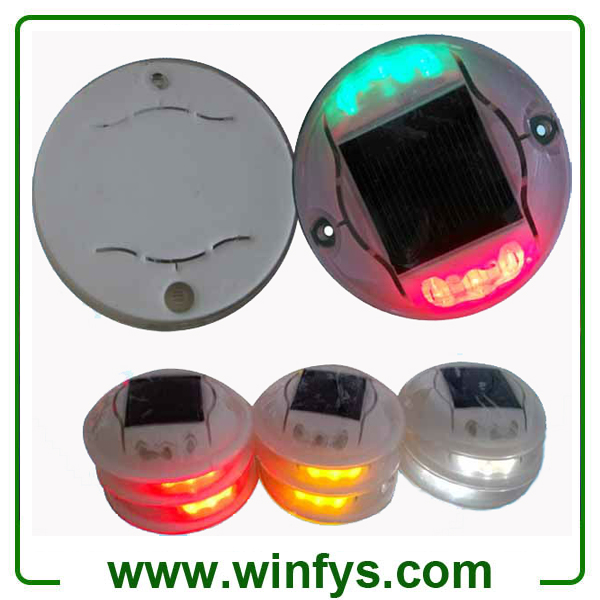 1. Specification
*Unit size: Dia 123*23MM
*Unit weight: 0.26KG
*Material: poly carbonate
*Solar panel: 2V/0.3W mono-crystalline silicon
*Battery: 1.2V/600mAh NI-MH battery
*LED: Epistar brand, Dia 5mm, 3pcs/side
*LED color: white,yellow,red,blue,green
*Working temperature: -25 °C ~ + 75 °C
*Working mode: flashing (blinker) or steady (constant)
*Working time: 180 hrs for flashing, 40 hrs for steady
*Lighting control < 80 LUX, can be adjusted as ur request
*Visibility: 1000M
*Protection level: IP68
*Load bearing: over 20tons
*Packing: 2pcs/box, 60pcs/ctn, 38*25.5*29.5CM, 17KG
2. Application:
*Side of the road
*Foggy area (seaside,airport area)
*Highway or non-street light area
*The Ramp
*Curve or some dangerous road
*.Lane delineation
*.Lane marking and guidance
*.Lane merging and on / off ramps
*.Accident prevention at black spots
*.Hazardous road layouts
*.Cycle path delineation
*.Cycle route way finding
*.Architectural
3. Features:
1.Easy installed.Needs no external power and paved circuit, can be firmly installed by epoxy resin glue or screws.
2.Energy saving. Low power consumption and solar energy.
3.Excellent warning effect. All LEDs can perform more soundly in active lighting, high brightness.
4.Firm and durable. Use the mold to press the outer covering at a time, which needs no more assembly as to improve the compression resistance.
5.Long working-time. 180 hours for flashing ,40 hours for steady in fog or rainy days after fully charged.
4. Installation:
Way one. Wash well road surface,and then fix firmly the product by epoxy resin glue.
Way two: The product can be fixed with screws.(the first way is recommended )
5. Notes:
1.Regular cleaning of the dust or dirties on the solar panel to make sure good charging effect.
2.Putting the solar road stud exposed to sunshine every two months during storage.