Reflective Solar Aluminum Road Markers Aluminum Road Studs Aluminum Pavement Markers
Aluminum Road Markers features auto-light at night due to Integrated design of Lightmotion sensor.
It is Solar powered,no extra battery or electricity wire needed. It is made of casting aluminum alloy
body and with max pressure of 20 tons. It is with two light models options(steady and flashing) and
IP68 weatherproof and heatproof design for durability.
1. Features:
1.Anti-press and anti-impact: It can stand the impact and press of 15 tons vehicles.
2.Hight reflection: The reflector can create the light like diamond by the shine of vehicles lights at night.And that will make sure the driver see the reflection about 150-200m far away.
3.Heat-resistant: The temperature from -40°C to +60 °C was applicable.
4.Anti-corrasion : It can endure the corrasion of water, oil, chemical material.
5.Attractive appearance: Bright colour, reasonable design and diamond light make the road more attractive and beautiful by using it.
6.solar road stud installed. Don't have external power source and external lines.
7.Energy saving, low power consumption, used solar power, low cost.
8.Environmental Protection,non Hazardous Substances, and not discharge of pollutants
9.High warning effect, active luminous, high luminance, dynamic warning.
10.solar road stud Stable property, designed by integrated circuit and thermostability rechargeable batteries. Ensure the long servicing life and performance of the product.
11. Strong and durable, the shell is fully fashioned by mould, suffer from stress>20tons.
12. solar road stud Long work time, one fully charged can work more than 120 hours, on standard light intensity about 8 hours, can work 72 hours.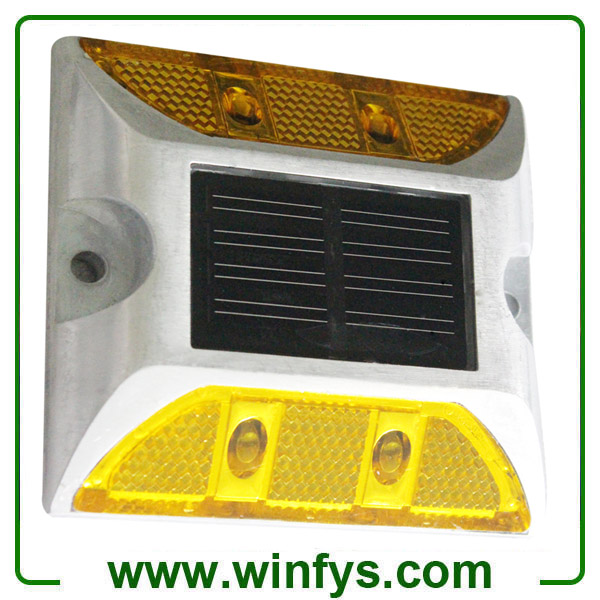 2. Specfication:
Item

Solar LED Road Stud

Power

0.2W

Power Supply

Solar cell (monocrystal silicon)2V100mA

Shell

Aluminum alloy

Battery

600MA Ni-Hm High temperature Battery

Working Hours

Continuously light 72 hours after exposed

under strong sunlight for 8 hours

Lighting Status

Flash (2Hz±20%) or constant light

Light Color

Red, yellow, blue, white, green

Lighting Component

6pcs φ5 high bright anti-fog LED on each side

Visible Range

>800 m

Life Span

>5 years

Working Temperature

-20°C~+70°C

Activate Condition

Light intensity <500Lux

Max Load Capacity

Static pressure capability>10 tons

Net Weight

34KG/carton

Gross Weight

35KG/carton

Size

105(L)*105(W)*23(H)mm

Package Size

115*115*55mm 2PCS/box

Installation

Double fix the stud with adhesive and screw to

make sure it will not loose under long term pressure