6-Pack Orange Amber Rechargeable Led Emergency Flares Led Road Flares Kits
These 6-Pack rechargeable led safety emergency flares lights feature 9 user-selectable
flashing modes and are idea for use as LED road flares, the most effective rescue kits and emergency survival kits, providing safety of vehicles and human beings on the road.
The led emergency safety road flares have 16 LEDs, crush proof/waterproof/corrosion proof,
enough to withstand being driven over by a truck.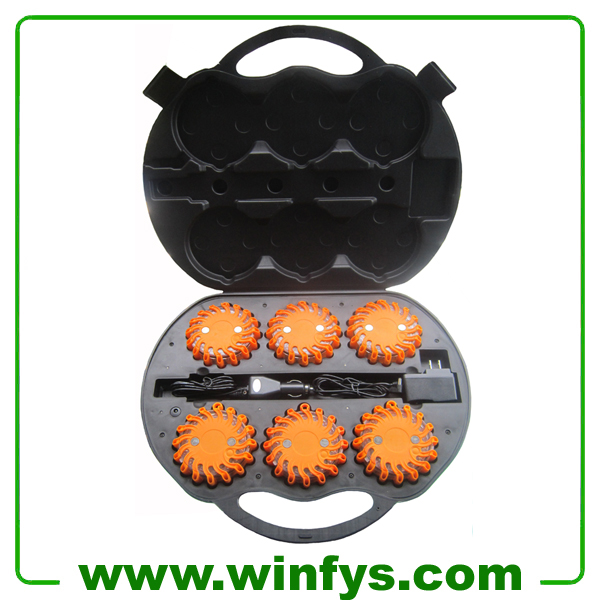 1. Features:
LED Road Flares is small enough to keep in a saddle bag, tank bag, or even those small under seat storage spaces that most bikes have.
1. High-Strength Transparent Plastic Housing
2. Outfitted with a Shock Resistant Durable Rubber Exterior
3. Built-In Magnets Allow for Convenient Placement on Autos, Boats, RVs, & More
4. Handy for Emergencies, Camping, Marine Applications, Off-Roading
5. IC chip control LED flash
6. Compact & Visible up to a 1/2 mile away.
7. Placed safely on the ground and roadway.
8. Casing is constructed of super high strength plastic: PC, TPE and TPR
9.A car can run over it without any damage !
10.Completely waterproof! It even floats!
11. Perfect for boats and watercraft safety
12. Working 1/2mile under water !
The compact 6-Pack Amber Rechargeable Led Road Flares Kits emits 360° of ultra-bright light from an array of 15 LEDs, visible up to 10 miles away. The lamp is extra tough, water resistant and oppose of lamps it can resist extreme temperatures.

The 6-Pack Orange Rechargeable Led Emergency Flares has 9 flash patterns. This makes it ideally
suited as a warning light, emergency beacon and so on. Ideal to take with you during bicycling, hiking,
or any outdoor activity. The protection rubber is so tough that you can run it over with a car!

2. Specifications:
Lamp Type: 5-mm LED
Colour: Amber/Orange
LED Qty: 16
Body: Plastic
Switch Type: Push
Battery Type: CR123 Rechargeable
No. of Batteries: 1
Size:10.5*3.5cm
9 flash modes
Flash Pattern and Run Time










NO.

Flash Pattern

Run Time










1

Rotate

15 hours










2

Double Flash

22 hours










3

Single Flash

70 hours










4

Alternate Flash

8 hours










5

S-O-S

12 hours










6

Steady-ON High

2 hours










7

Steady-ON Low

17 hours










8

2 LEDS Flashlight

14 hours










9

4 LEDS Flashlight

7 hours









6-Pack LED Road Flares Kits include:
6X Led Road Flares
1XCharger/USB Power cable with cigarette lighter adapter plug
1X100-240VAC Power Supply
1X Charging Case