Led Road Flares Rechargeable 6-Pack Red Yellow White Blue Amber Orange Green Black
In recent few years, most of the people have started looking for various non-hazardous illumination
sources to safeguard the whole environment and atmosphere from all sorts of negative effect. For this reason, most of the people have started with the usage of lighting systems powered by light emitting diode, as those lights do not generate flame, smoke or any kind of toxic bi-Products. In addition, Led Road flares powered by LEDs not only act as ideal substitution for various types of inflammable flares, but also serve as safe yet secured option to perform varieties of applications.
Led Road Flares Typical Application
The new designed led warning light is essentially objected for daily safety warning,especially for night emergence use.The warning light constructed with a super strong body,covered with soft TPR,provides a super stable shell structure. It is typically used as below.
Law Enforcement
*Traffic Control
*Building Search
*SWAT
*Training
*Motorcycle & Bicycle
Fire
*Traffic control
*Beacons and markers during search and rescue operations, etc.
Emergency Medical Services (EMS)
*Ambulances
*Helicopter(LifeFlight)landing zones
Mining & Drilling
Campers/Hikers
*Mark campsites
*Signal for medical/rescue
Marine/Boating
Military
Universities, Stadiums, Malls, and other locations where traffic control/safety is important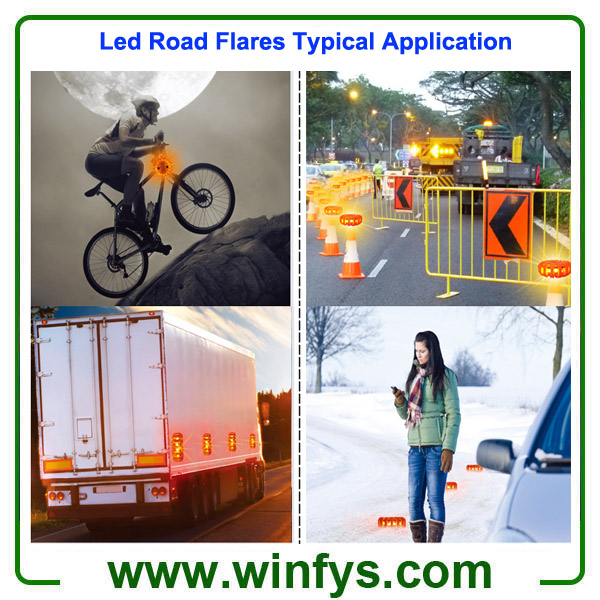 Led Road Flares Typical Advantages
This Rechargeable Led Road Flares features 9 different lighting modes for muti-purpose emergency signal warnings, including identifing road hazards, signal for help, mark detours, underwater scuba or repair applications,emergency use,camping,outdoors,road flares,marine applications and Ideal for emergency responders, survival kits or personal highway car packs, truckers, maritime industry workers, aviation industry workers. Led Road Flares can be used as rescue beacon and as a warning light in case offlat tires, engine trouble, dead batteries, car breakdown or driving at snowy, foggy, rainy days and other bad weather. It is mostly used in law enforcement officials, fire departments, hospitals and military, lane closures, traffic control, crowd control, DUI checkponits and fire training, police, firefighters, EMT's, rescue first responders, members of emergency response teams and everyday civilians.Led Road Flares can handle extreme temperatures & underwater, can be used in HAZMAT situations (intrinsically safe).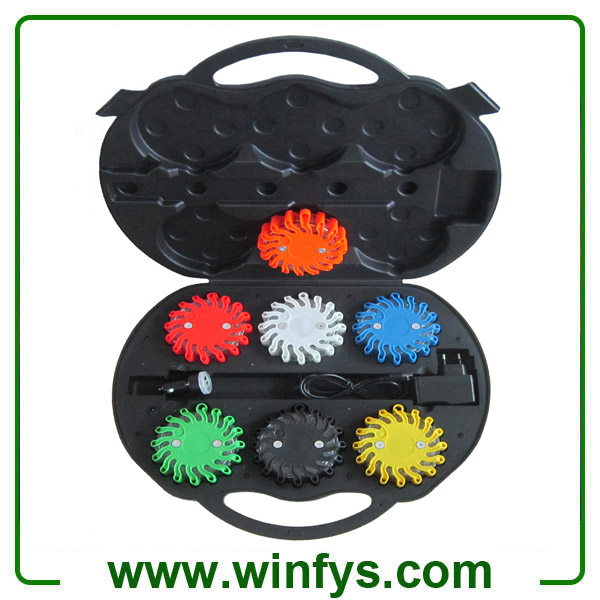 Led Road Flares Specification

Model:

Led Road Flares Rechargeable 6-Pack

Red Yellow White Blue Amber Orange Green Black

Name:

Led Road Flares

Bulb Type:


16 LEDs

Power Source:


1000mAH 3.7V rechargeable battery.

Built-in IC chip control 9 user-selectable flash patterns.

Size:


108x35mm

Weight:


250g

Material:


PC,TPE and TPR

Magnet:


1pcsx3000GS/PC

LED Range:


300Meter at daytime, 800Meter at night and 10miles in the water

Functions:


Mainly used on police, government, fire department and so on

Contains a strong magnet for placement on vehicle

Completely waterproof even if floats, perfect for boats and watercraft safety

LED Colors:


Red, amber, yellow, blue, green, white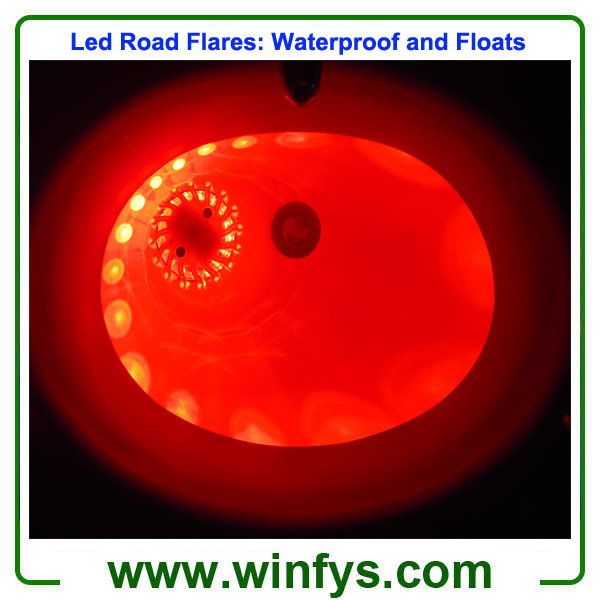 Led Road Flares Features

Led road
flares
do not produce any flame, smoke, or harmful bi-products like perchlorate, outshining and replacing traditional road flares.
It is heavy duty, strong enough to withstand being run over by motor/car/ other vehicles.The Led Road Flares contain a high-capacity Lithium ion battery. The Lithium ion battery offers led road flares a super long life time, which is up to 90 hour responsible. The high-capacity Lithium ion battery is also the insurance of safety. It contains the protection of overcharging and overusing, which could prevent from overcharging caused disaster and extend battery life.
Super bright 16pcs Leds.

Visible light range up to 1/2 miles.

9 different flashing patterns including SOS Morse Code, solid on,etc.

Road flare includes a powerful magnet base to attach to metal surfaces

Crushproof,corrosion proof, waterproof and floats

Safe to use in many HAZMAT situations.

Replaceable lithium battery

LED Road Flares Kits include:

1XLed road flares, 1X 110V/220V AC Wall charger and 1X12/24V DC USB car charger
Flash Pattern and Run Time
| | | | | | | |
| --- | --- | --- | --- | --- | --- | --- |
| NO. | Flash Pattern | Run Time | | | | |
| 1 | Rotate | 15 hours | | | | |
| 2 | Double Flash | 22 hours | | | | |
| 3 | Single Flash | 70 hours | | | | |
| 4 | Alternate Flash | 8 hours | | | | |
| 5 | S-O-S | 12 hours | | | | |
| 6 | Steady-ON High | 2 hours | | | | |
| 7 | Steady-ON Low | 17 hours | | | | |
| 8 | 2 LEDS Flashlight | 14 hours | | | | |
| 9 | 4 LEDS Flashlight | 7 hours | | | | |
Note:
Blue, Green and White color LED versions will run about 70-80% of listed times.
Battery performance can vary from factors such as temperatures, age of the battery, etc.
How to Charge Led Road Flares?
1. Put flares into charging case with front side facing up. The (+) and (-) terminal symbols will be aligned.

2. Plug 12V/24V car charger or 110V/220V wall charger into power port of charging case.
3. Connect to power supply, the indicator light aside flares will light up as below.
Charging: The indicator light aside flares turns RED and make a Green/Red alternating flash.
Fully Charged: The indicator light aside flares stop flash and keep steady after 8 to 10 hours.
Note:
If indicator light turns red, not flashing, it means flares is placed incorrectly and can not be charged.
If so, move flare left or right, up or down and the indicator light will flash and flares start to charge.
How to use Led Road Flares?
1. Press ON/OFF button to switch ON
2. Push ON/OFF button to select from 9 different flash patterns
3. Press ON/OFF button and hold down for 3 seconds to switch OFF